TAC Cup Legends: Rebels' Brooke Brown
North Ballarat Rebels have announced the latest TAC Cup local legend, with Welfare Coordinator Brooke Brown recognised for her contribution to the club and long running success of the competition.
TAC Cup clubs are celebrating 25 years of the competition by recognising local legends and welcoming former players back to the clubrooms.
With the Rebels since 2008, Brown has evolved from statistician when she first arrived at the club, to team manager to now looking after the wellbeing of the players at a variety of levels.
Brown assists the off field development and welfare of Rebels' players, ensuring regional players that have moved to Ballarat are adapting to living away from home, helping support player's families and assisting time management for players in their VCE year.
Former Western Bulldogs and Rebels player Brett Goodes returned to the club of Thursday night to present Brown with her award as part of a Towards Zero Player Night.
Goodes is one of many AFL players who have come through the TAC Cup, a partnership that builds leadership skills, including being a safe road user, as young people get a kick-start to their football and driving careers.
The 25 year partnership with the Transport Accident Commission takes on a new mantra in 2016 as the clubs commit to stand together towards zero deaths and serious injuries on the roads.
TAC CEO Joe Calafiore said the return of role models like Goodes reinforced how TAC Cup players have the opportunity to show leadership on and off the field.
"All TAC Cup players know how important it is to stand together as a team. This year we are asking them to stand together with us in the Towards Zero approach to road safety.
"We know that young Victorians are among the most likely to be hurt on our roads and that's why our partnership with AFL Victoria and the TAC Cup clubs is so valuable - it enables us to reach out directly to young people and empower them to become positive role models," Calafiore said.
Throughout the 2016 season, each club will reveal their local legend and highlight the important role they play within the club.
NEXT STOP: Dandenong Stingrays, Thursday July 7, with Matthew Boyd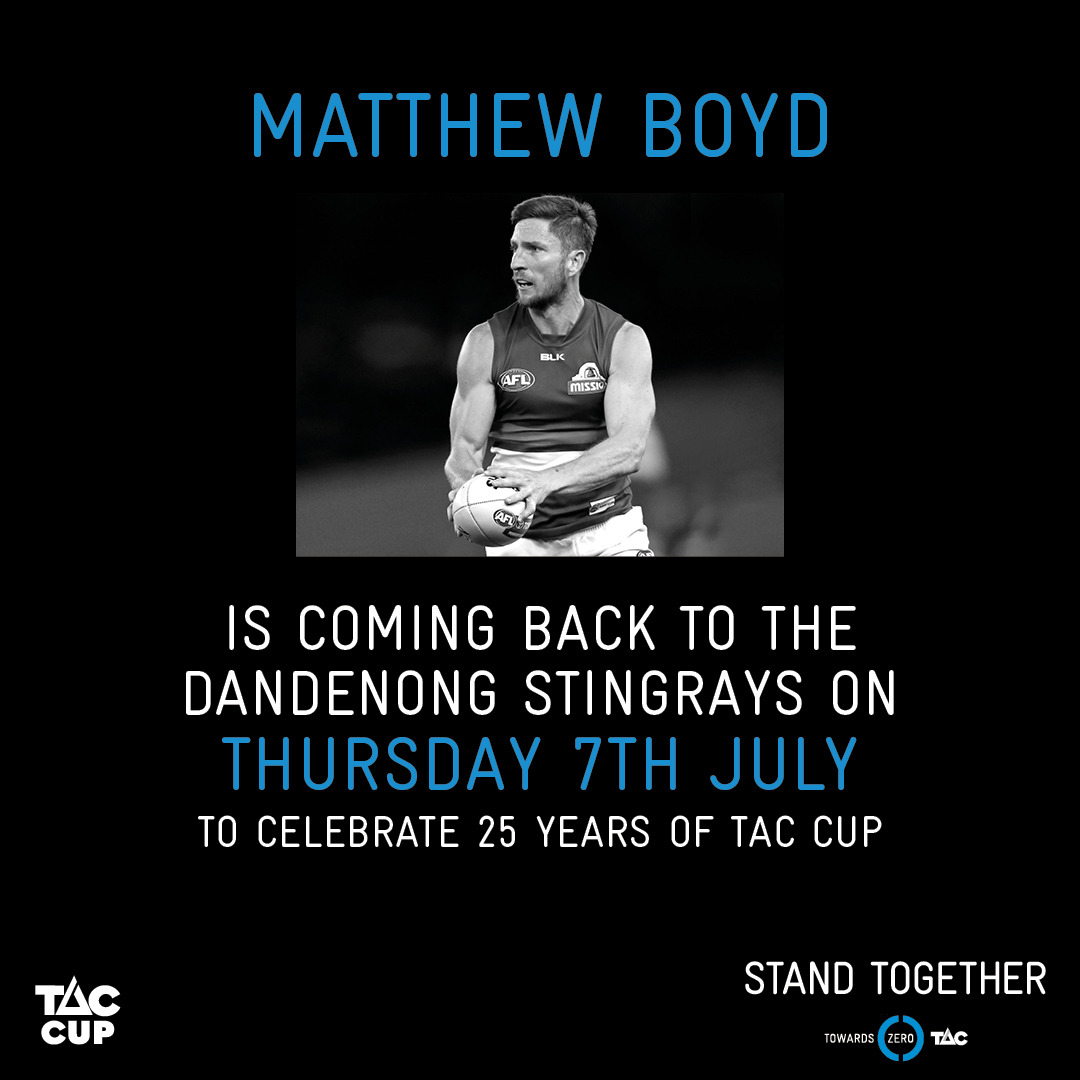 Click the links below for previous TAC Cup Legends:
Last Modified on 01/07/2016 10:45