Lucky 13 named All Australians
13 players from the TAC Cup system have been named in the NAB AFL U18 Championships All Australian team, after its conclusion on Wednesday.
Undefeated title winners Vic Metro dominated the selections with nine – five of those from the Eastern Ranges. This was followed by SA five, Allies and Vic Country three and WA two.
While 12 players were selected from AFL Victoria's Country and Metro Academies – supported by Dairy Australia's Legendairy campaign – Bendigo Pioneers Koby Mutch rounded out the 13, playing for the Allies in the Division 1. This is one more selection than in 2015, in an All Australian lineup that boasted the likes of Jacob Weitering, Rhys Mathieson, Jade Gresham and 2016 U18 Championship players Jarrod Berry and Ben Ainsworth.
Vic Metro coach David Flood was named the All-Australian coach while NSW/ACT and Allies coach Tadhg Kennelly was named assistant coach.
AFL National and International Talent Manager Kevin Sheehan said this year's championships were played with in a different format with the introduction of the Allies to Division One.
"The inclusion of the Allies meant the best players from Division Two were able to play at a higher standard. There are three Allies players who have been named All-Australian," he said.
"The Championships matches were again very competitive and I expect many players to feature in the NAB AFL Draft in November."
See the TAC Cup selections below:
Coach David Flood Vic Metro
Assistant Coach Tadhg Kennelly NSW/ACT
Defenders
Jack Maibaum (Vic Metro, Eastern Ranges, Knox, Melbourne Grammar) 193cm 90kg 27/3/1998
Tall defender who consistently nullified the opposition's best forward during the Championships. Agile, with clean hands and poise under pressure, he averaged 10 disposals at 82 percent efficiency, and three marks playing an important key defensive role for his team.
Andy McGrath (Vic Metro, Sandringham Dragons, East Brighton) 179cm 75kg 2/6/1998
Small defender who was co-captain of the Championship-winning Vic Metro side. Set a strong standard with his rebound from defence, courage in the air and ball-winning ability. Won his team's MVP, averaging 24.2 disposals at 81% efficiency across the Championships.
Midfielders
Will Brodie (Vic Country, Murray Bushrangers, Scotch College, Shepparton) 189cm 82kg 23/8/1998
Medium midfielder who wins the clearances and displays great game-sense. Is a versatile player with good evasive skills, giving him time and space in congested situations. Awarded the MCC President's Medal as the Australian Under-18 team's best player in April and continued his impressive form averaging 21 disposals (69% efficiency), 10 contested, and five clearances across the Championships.
Hugh McCluggage (Vic Country, North Ballarat, South Warrnambool) 185cm 75kg 3/3/1998
Medium midfielder who is very creative by hand and foot and sets the game up for his team. Prolific ball-winner and smart around goal, he averaged 20.8 disposals (nine contested) and 1.8 goals a game to be awarded Vic Country's MVP. Member of the NAB AFL Academy.
Forwards
Daniel Venables (Vic Metro, Western Jets, PEGS, Keilor) 185cm 81kg 19/11/1998
Powerful midfielder-forward who is super competitive, creative and can find space with his agility in tight situations. Dangerous around goals and strong overhead, he produced in critical moments for his team throughout the Championships. Averaged 13 disposals and six tackles and kicked six goals across the Championships.
Josh Battle (Vic Country, Doveton, Haileybury, Dandenong Stingrays) 192cm 90kg 1/9/1998
Tall Forward with strong hands overhead and on the lead. Has a terrific work ethic and has innate goal sense kicking four goals against both Western Australia and the Allies. Kicked 11 goals for the Championships. Member of the NAB AFL Academy.
Dylan Clarke (Vic Metro, Eastern Ranges, Knox, Melbourne Grammar) 187cm 85kg 6/9/1998
Left-footed medium midfielder who can win the ball both on the inside and outside. Excellent one-on-one player who had an outstanding Championships averaging 25 disposals (67 percent efficiency) and six clearances for Vic Metro.
Callum Brown (Vic Metro, Eastern Ranges, Bulleen-Temp, Marcellin) 177cm 69kg 24/4/1998
Tenacious small forward/midfielder who attacked the ball with courage winning 50-50 contents and distributing it creatively, particularly by hand. Has good goal sense and is a real team-oriented player who averaged 19 disposals at 76 percent efficiency along with four clearances and four tackles per game. Son of former Collingwood champion Gavin Brown.
Patrick Kerr (Vic Metro, Oakleigh Chargers, Glen Iris, St Kevins) 194cm 93kg 31/7/1998
Tall forward with very strong hands overhead and a long kick for goal. His four goals in a quarter against South Australia was outstanding. He kicked nine goals for the Championships, averaged six marks and nine disposals across three matches.
Tim Taranto (Vic Metro, Sandringham Dragons, Parkdale, St Kevins) 186cm 82kg 28/1/1998
Powerful medium forward /midfielder who wins one-on-ones and accelerates away from stoppages. Difficult match-up when forward and averaged a goal a game for Vic Metro. Also averaged 18.8 disposals and laid 4.8 tackles per game.
Interchange
Kobe Mutch (Allies, Gol Gol, Bendigo Pioneers) 184cm 79kg 18/3/1998
Medium-midfielder who is a prolific ball winner and neat distributor by hand and foot on both sides. Averaged 22 disposals for the Allies (eight contested possessions) and seven tackles. Member of the NAB AFL Academy and GWS Academy.
Sam Hayes (Vic Metro, Eastern Ranges, Ferntree Gully) 200cm 90kg 9/6/1999
Bottom-aged ruckman who is very strong overhead, mobile and very effective at stoppages. Averaged 10 possessions four marks and 22 hitouts and kicked five goals across the Championships.
Jordan Gallucci (Vic Metro, Eastern Ranges, Lilydale) 183cm 75kg 4/5/1998
Medium-sized midfielder who can play back or forward. Extremely quick and agile. He was Vic Metro co-captain and lead with tenacity and skill. Averaged 14.8 disposals at 66 percent efficiency and 3.8 tackles. Member of NAB AFL Academy.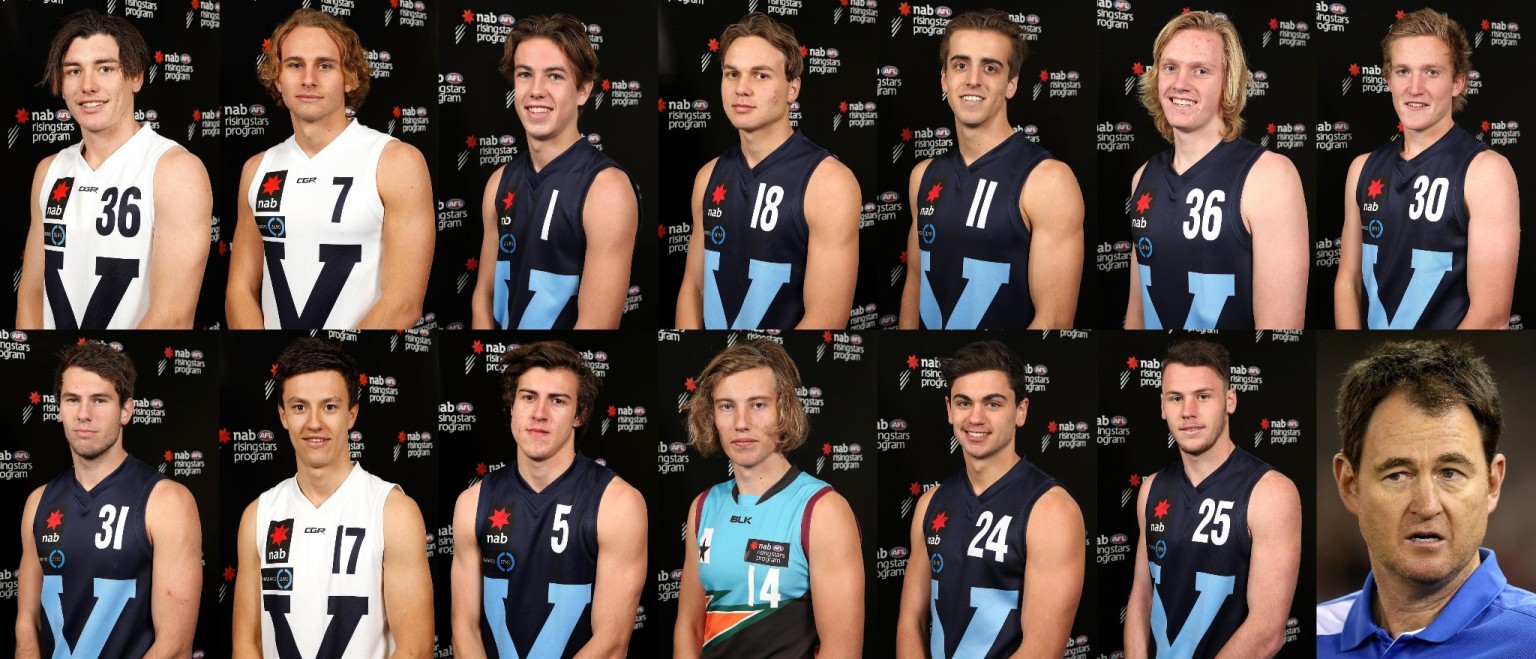 FULL TEAM:
DEFENDERS: Alex Villis (SA), Jack Maibaum (VM), Sam Walker (SA), Andrew McGrath (VM), Brennan Cox (SA), Harry Perryman (Allies)
MIDFEILDERS: Zac Fisher (WA), Jack Graham (SA), Jack Bowes (Allies), Tim English (WA), Will Brodie (VC), Hugh McCluggage (VC)
FORWARDS: Daniel Venables (VM), Josh Battle (VC), Dylan Clarke (VM), Callum Brown (VM), Patrick Kerr (VM), Tim Taranto (VM)
INTERCHANGE: Jonty Scharenberg (SA), Kobe Mutch (Allies), Sam Hayes (VM), Jordan Gallucci (VM)
RELATED STORIES:
Country defeated by familiar faces
Last Modified on 30/06/2016 21:26