Stats Central Rd 14: Long-Range kicking
The Eastern Ranges have steadied their season in the last two weeks with no-nonsense, direct ball movement.
Last year's grand finallists held a record of 4-3 before dropping their next five games to be in danger of missing a place in September. But victories over the Western Jets in Round 13 and Northern Knights in Round 14 has seventh-placed Eastern primed to secure a finals spot.
In their 18-point triumph over the Knights, the Ranges had much less of the ball but moved it directly and with purpose. Northern had 99 more disposals – including seven players with 20 or more disposals compared to Eastern's one – but the Ranges recorded a kick-to-handball ratio of 1.91-to-1 compared with Northern's 0.95-to-1.
During the crucial final quarter when Eastern rallied from six points down to overrun the Knights, the Ranges had 42 kicks and 17 handballs while Northern had 31 and 38 respectively. In a 90-point win against the Jets the previous week, their ratio was 1.47-to-1 compared to Western's 0.99-to-1.
Boasting a dangerous forward line consisting of tall goalkickers Sam Hayes and Nathan Mullenger-McHugh, and mid-sizers such as Jaidyn Stephenson and Josh Begley, clearly Eastern wants to get the ball inside 50 as fast as possible to let them do what they do best.
Other key stats from Round 14:
9: For a 198cm ruckman, Josh Patullo gave the Gippsland Power a surprising amount of drive in their victory over the Geelong Falcons. The over-ager had a clear game-high nine inside-50s to go along with 19 disposals, five marks and 27 hitouts. Patullo was also able to demonstrate his mobility in two games for the VFL's Casey Scorpions in June.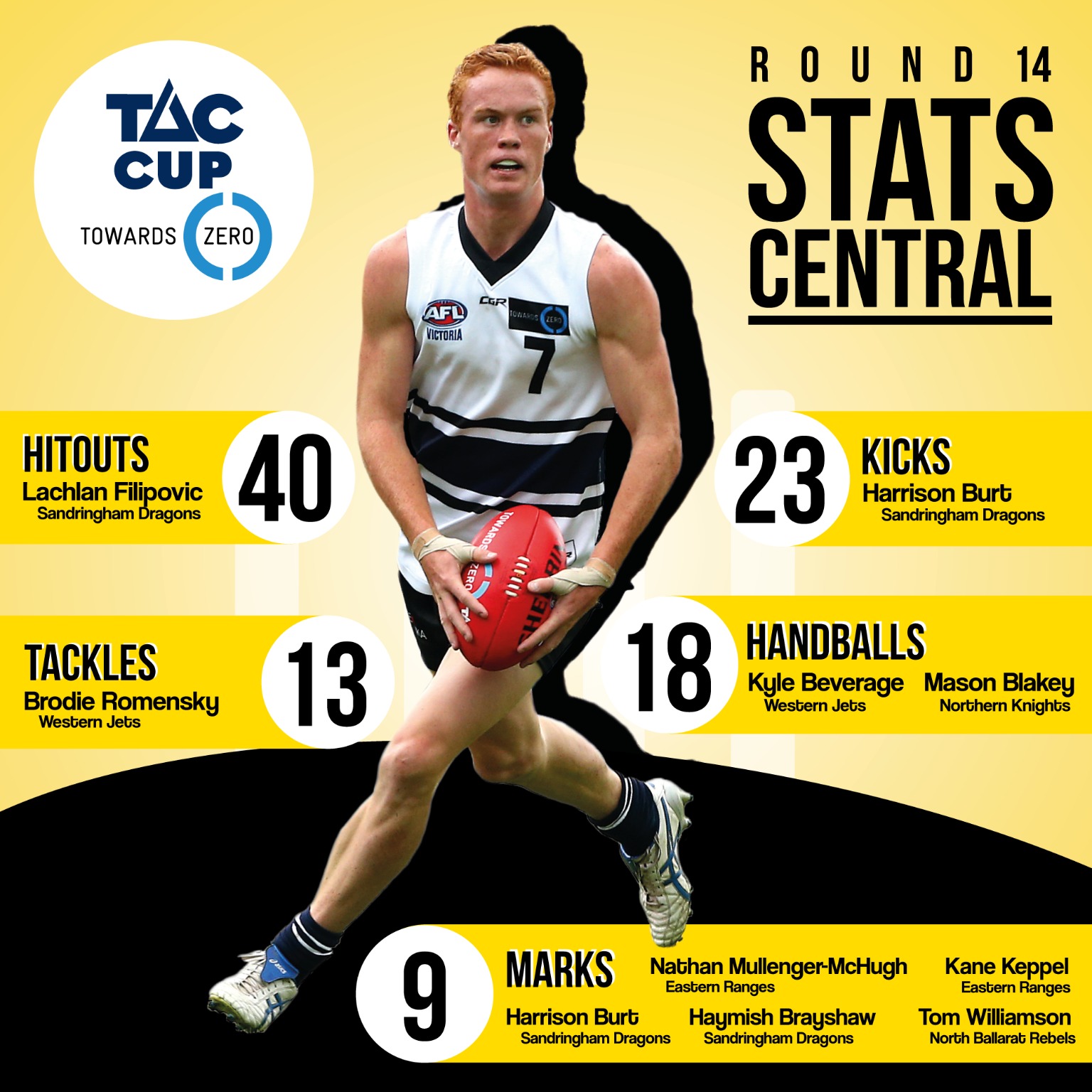 Round 14 stats leaders:
KICKS
Harrison Burt
Sandringham Dragons
23
Matt Perry
Northern Knights
22
Kobe Mutch
Bendigo Pioneers
21
Zach Guthrie
Calder Cannons
21
Hamish Brayshaw
Sandringham Dragons
20
Mitchell Andrews
Northern Knights
20
Reuben Hayward
Sandringham Dragons
20
Kane Keppel
Eastern Ranges
20
Taylin Duman
Eastern Ranges
19
William Donaghey
Murray Bushrangers
18
Corey Lyons
Sandringham Dragons
18
Hugh McCluggage
North Ballarat Rebels
17
Zachary Zdybel
Geelong Falcons
17
Marcus Lentini
Northern Knights
17
Callan Wellings
North Ballarat Rebels
17
HANDBALLS
Kye Beveridge
Sandringham Dragons
18
Mason Blakey
Northern Knights
18
Ethan Penrith
Northern Knights
17
Marcus Lentini
Northern Knights
16
Taylin Duman
Eastern Ranges
15
Oliver Stapleton
Northern Knights
14
Xavier Jordan
Oakleigh Chargers
14
Thomas Glen
Dandenong Stingrays
14
William Donaghey
Murray Bushrangers
13
Jake Page
Murray Bushrangers
13
Lachlan Walker
Oakleigh Chargers
13
Bobby Lamanna
Northern Knights
13
Nicholas Stuhldreier
Western Jets
13
Paddy Dow
Bendigo Pioneers
13
Brodie Romensky
Western Jets
13
MARKS
Harrison Burt
Sandringham Dragons
9
Hamish Brayshaw
Sandringham Dragons
9
Tom Williamson
North Ballarat Rebels
9
Kane Keppel
Eastern Ranges
9
Nathan Mullenger-McHugh
Eastern Ranges
9
Laine Fitzgerald
Bendigo Pioneers
8
Jaidyn Stephenson
Eastern Ranges
8
Jarrod Brander
Bendigo Pioneers
8
Kye Beveridge
Sandringham Dragons
7
Taylin Duman
Eastern Ranges
7
Reuben Hayward
Sandringham Dragons
7
Riley Taylor
North Ballarat Rebels
7
Jamison Shea
Northern Knights
7
Marcus Lentini
Northern Knights
6
James Gow
North Ballarat Rebels
6
HITOUTS
Lachlan Filipovic
Sandringham Dragons
40
Josh Patullo
Gippsland Power
27
Chas Roberts
Northern Knights
25
Joshua Boehm
Oakleigh Chargers
25
Lloyd Meek
North Ballarat Rebels
24
Zachary Zdybel
Geelong Falcons
19
Sam Hayes
Eastern Ranges
19
Noah Balta
Calder Cannons
16
Trent McMullan
Murray Bushrangers
15
Dylan Atkins
Dandenong Stingrays
15
Nathan Twigg
Bendigo Pioneers
14
Darren Walters
Western Jets
14
Nathan Mullenger-McHugh
Eastern Ranges
13
Joel Grace
Northern Knights
13
Nick Larkey
Oakleigh Chargers
12
TACKLES
Brodie Romensky
Western Jets
13
Josh Formosa
Bendigo Pioneers
11
Jordan Haynes
Eastern Ranges
11
James Worpel
Geelong Falcons
11
Oliver Stapleton
Northern Knights
10
Gryan Miers
Geelong Falcons
10
Nathan Twigg
Bendigo Pioneers
9
Brad Bernacki
Calder Cannons
9
Austin Hodge
Gippsland Power
9
Will Stephenson
Gippsland Power
9
Jordan Gallucci
Eastern Ranges
9
Jack Heathcote
Geelong Falcons
9
Xavier Jordan
Oakleigh Chargers
9
Daniel Sharrock
Murray Bushrangers
9
Callum Porter
Gippsland Power
9
2016 LEADING GOALKICKERS
Goals
Total
Karl Brown
Calder Cannons
2
43
Sam Fowler
Dandenong Stingrays
1
31
Brett Blair
Geelong Falcons
VFL
31
Lachlan Tiziani
Murray Bushrangers
3
29
Kayle Kirby
Bendigo Pioneers
4
27
Jordan Johnston
North Ballarat Rebels
2
24
Dan Allsop
Dandenong Stingrays
2
24
Joshua Begley
Eastern Ranges
_
23
Corey McKay
Northern Knights
3
22
Hayden McLean
Sandringham Dragons
2
22
Related content:
Stats Central Rd 13: Pios bring heat on cold day
Stats Central Rd 12: Sandy seizes chances
Stats Central Rd 11: Oakleigh charges at Geelong
Stats Central Rd 10: Jets jolt the Chargers
Stats Central Rd 9: Knights charge forward
Last Modified on 27/07/2016 08:04