Stats Central Rd 15: Bushies shoot past Dragons
One barnstorming quarter was enough for the Murray Bushrangers to overwhelm the Sandringham Dragons by 17 points in Round 15.
Murray booted only four majors to the last change – being held scoreless in the first quarter – but a stout defensive effort to keep the Dragons to just one goal kicking with the Rams Arena breeze in the third term proved critical. The fortunes of both teams seemed to swing with the wind, and the Bushrangers rode it all the way to victory in a seven-goal-to-one fourth quarter.
The Bushrangers had just two more disposals than their opponents in the final stanza but used their possessions to enormous effect. In fact, not a lot separated the teams statistically all game – most categories were all even or close to it.
The difference emerged when the ball was up for grabs. Murray had a significant +23 advantage in contested possessions on the back of ball-winners such as Fletcher Carroll and Isaac Wallace (team-highs of 13 contested possessions). They took a quarter to get to work, but Sandringham struggled to fire when they eventually did.
Other key stats from Round 15:
33: 197cm Calder Cannons top-ager Mitch Lewis had one of the best statistical games a big man can have in his team's loss to the Gippsland Power in Round 15. Lewis recorded game-highs for disposals (33), uncontested possessions (24) and marks (13), as well an equal-game-high four goals... Oh, and he also had 12 hitouts and seven inside-50s.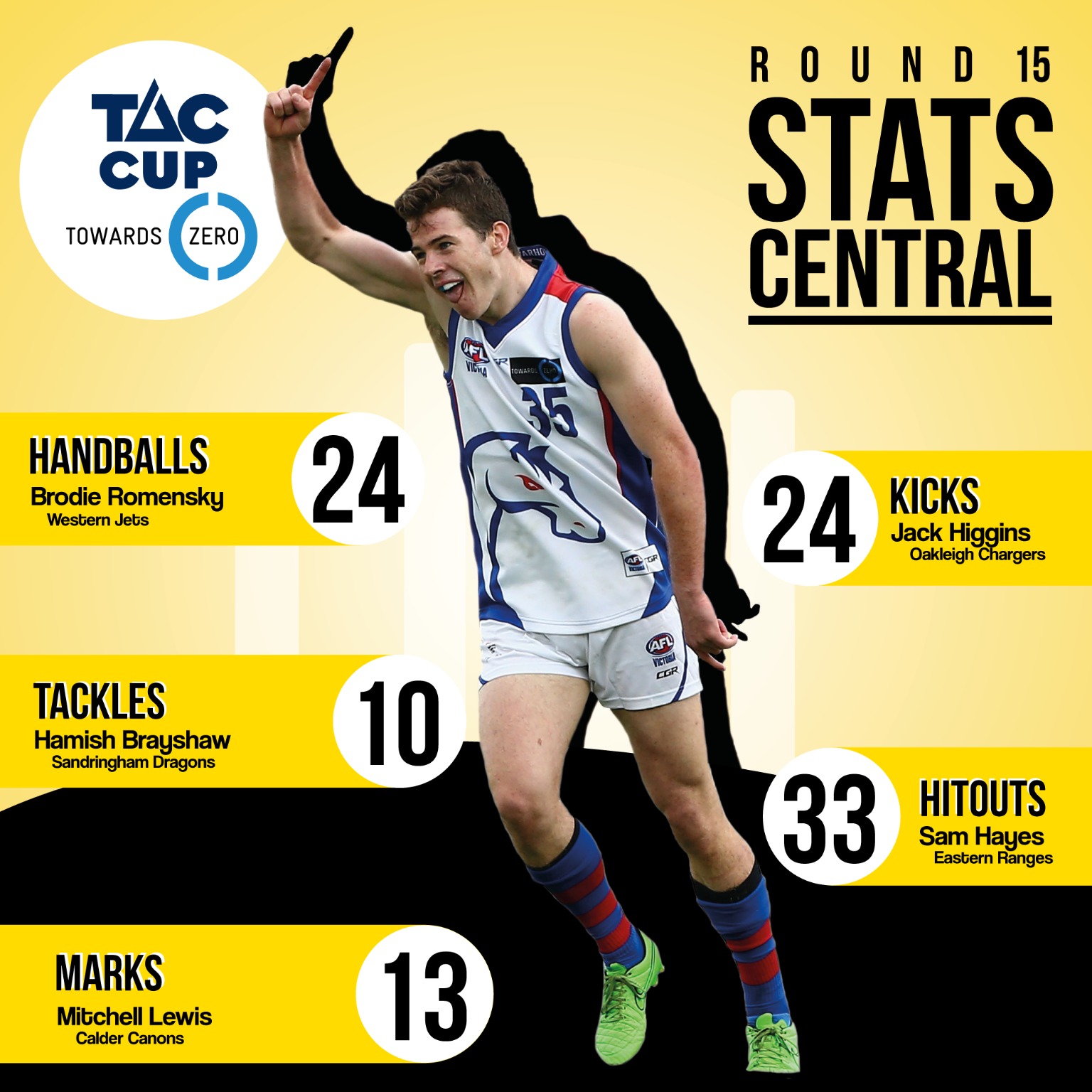 Round 15 stats leaders:
KICKS
Jack Higgins
Oakleigh Chargers
24
Mitchell Lewis
Calder Cannons
23
Will Leslie
Gippsland Power
21
Corey Lyons
Sandringham Dragons
20
Patrick Killen
Geelong Falcons
19
Callan Wellings
North Ballarat Rebels
19
Luke Bunker
Northern Knights
19
Lachlan Murphy
Northern Knights
19
Marcus Lentini
Northern Knights
18
Harrison Burt
Sandringham Dragons
18
Oscar Junker
Western Jets
18
Darby Henderson
Bendigo Pioneers
17
Benjamin Caluzzi
Calder Cannons
17
Taylin Duman
Eastern Ranges
17
Sam Fowler
Dandenong Stingrays
16
HANDBALLS
Brodie Romensky
Western Jets
24
Jackson McDonald
Calder Cannons
23
Hugh McCluggage
North Ballarat Rebels
22
Marcus Lentini
Northern Knights
18
Myles Poholke
Dandenong Stingrays
18
Ryan Carter
Western Jets
18
Wilson Berry
Western Jets
18
Matt Perry
Northern Knights
17
Mason Blakey
Northern Knights
16
Luke Bunker
Northern Knights
15
Josh Patullo
Gippsland Power
15
Thomas Glen
Dandenong Stingrays
15
Isaac Wallace
Murray Bushrangers
15
Ed Phillips
Oakleigh Chargers
14
Nathan Scagliarini
Dandenong Stingrays
14
MARKS
Mitchell Lewis
Calder Cannons
13
Ed Phillips
Oakleigh Chargers
12
Jack Higgins
Oakleigh Chargers
11
Hamish Brayshaw
Sandringham Dragons
10
Ryan Carter
Western Jets
9
Ryan Garthwaite
Murray Bushrangers
9
Zachary Zdybel
Geelong Falcons
8
Brett Blair
Geelong Falcons
8
James Gow
North Ballarat Rebels
7
Jack Exell
Bendigo Pioneers
7
Jamieson Sheahan
Bendigo Pioneers
7
Isaac Miller
Bendigo Pioneers
7
Jordan Ridley
Oakleigh Chargers
7
Willem Drew
North Ballarat Rebels
7
Nick Larkey
Oakleigh Chargers
7
HITOUTS
Sam Hayes
Eastern Ranges
33
Chas Roberts
Northern Knights
32
Josh Patullo
Gippsland Power
27
Hayden Elliot
Geelong Falcons
20
Lachlan Filipovic
Sandringham Dragons
20
Zachary Zdybel
Geelong Falcons
19
Darren Walters
Western Jets
19
Lloyd Meek
North Ballarat Rebels
18
Dylan Atkins
Dandenong Stingrays
17
Jacob McNicol
Calder Cannons
17
Joshua Boehm
Oakleigh Chargers
16
Max Lynch
Murray Bushrangers
15
Steven Christou
Northern Knights
14
Trent McMullan
Murray Bushrangers
14
Nathan Twigg
Bendigo Pioneers
13
TACKLES
Hamish Brayshaw
Sandringham Dragons
10
Oliver Florent
Sandringham Dragons
9
Luke Bunker
Northern Knights
9
Corey Grindlay
Calder Cannons
9
James Worpel
Geelong Falcons
9
Isaac Miller
Bendigo Pioneers
8
Tom Murphy
Dandenong Stingrays
8
Nicholas Buykx
Western Jets
8
Ben Paton
Murray Bushrangers
8
Joshua Begley
Eastern Ranges
8
Will Stephenson
Gippsland Power
8
Brodie Romensky
Western Jets
7
Todd Marshall
Murray Bushrangers
7
Xavier Jordan
Oakleigh Chargers
7
Isaac Wallace
Murray Bushrangers
7
2016 LEADING GOALKICKERS
Goals
Total
Karl Brown
Calder Cannons
2
45
Brett Blair
Geelong Falcons
3
34
Sam Fowler
Dandenong Stingrays
2
33
Lachlan Tiziani
Murray Bushrangers
_
29
Kayle Kirby
Bendigo Pioneers
1
28
Dan Allsop
Dandenong Stingrays
_
24
Jordan Johnston
North Ballarat Rebels
DNP
24
Joshua Begley
Eastern Ranges
_
23
Muhammad Saad
Calder Cannons
1
23
Corey McKay
Northern Knights
1
23
Related content:
Stats Central Rd 14: Long-Range kicking
Stats Central Rd 13: Pios bring heat on cold day
Stats Central Rd 12: Sandy seizes chances
Stats Central Rd 11: Oakleigh charges at Geelong
Stats Central Rd 10: Jets jolt the Chargers
Last Modified on 02/08/2016 17:47