Stats Central Rd 16: How did Dandy do it?
The Dandenong Stingrays defied the stats to assure themselves a top-two finish with a thrilling one-point triumph over the Murray Bushrangers in Round 16.
The Stingrays have relied on their heart in big moments before in 2016 – think of the Round 13 win from 40 points down at three-quarter time against Oakleigh – and Saturday's encounter was another example of why they're in a position to win the minor premiership this week.
Dandenong lost every major statistical category recorded by Champion Data to the Bushrangers – except one. The winners lagged Murray in kicks, handballs, disposals, marks (contested and uncontested), contested and uncontested possessions, hitouts, clearances, tackles and free kicks won. However, the Stingrays still generated eight more inside-50s than their opponents.
The last of those entries resulted in a goal from bottom-age hero Hunter Clark to snatch victory with just seconds left. So much for the stats, hey?
Other key stats from Round 16:
13: The Geelong Falcons are the TAC Cup's highest-scoring team and their potency was on show again in a big Round 16 win against the Calder Cannons. They had 13 individual goalkickers contribute to their 23 majors, including seven multiple goalkickers. Seven Falcons – Brett Blair, Jackson McLachlan, Pat Dowling, Jack Henry, Zach Zdybel, Liam McCarthy and James Worpel – have all booted more than 10 goals this year.
7: Cameron Rayner presents as an exciting prospect for the Western Jets in his top-age year in 2017. The 16-year-old was a match-winner in their Round 16 win against the Bendigo Pioneers, booting 7.2 from 18 disposals and eight marks. Rayner has now booted 12 majors and been named in Western's best players five times in his six TAC Cup games this season.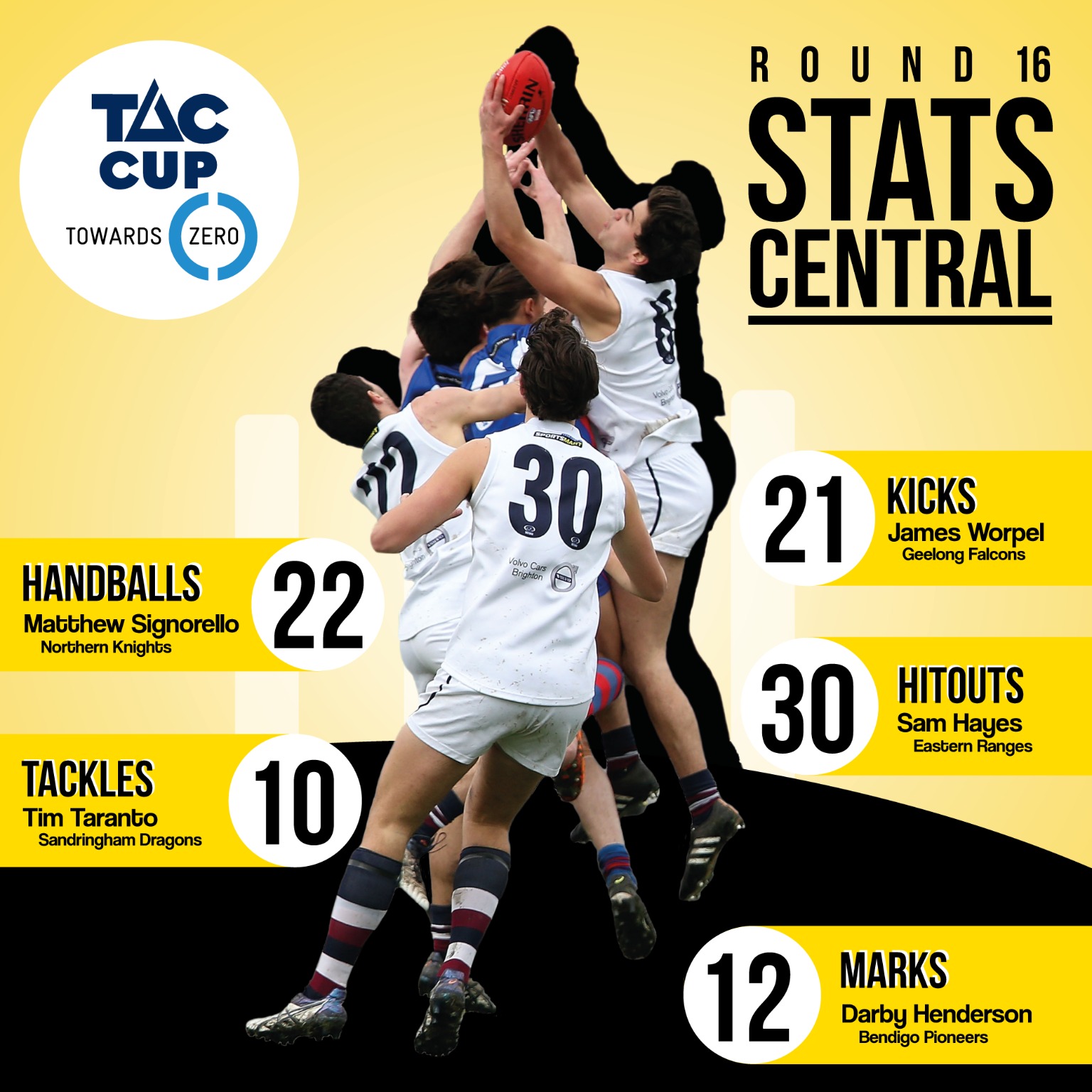 Round 16 stats leaders:
KICKS
James Worpel
Geelong Falcons
21
Ben Ainsworth
Gippsland Power
20
Kade Renooy
Gippsland Power
18
Callum Searle
Oakleigh Chargers
18
Darby Henderson
Bendigo Pioneers
17
Callan Wellings
North Ballarat Rebels
17
Matt Perry
Northern Knights
17
Isaac Miller
Bendigo Pioneers
16
Caleb Sheahan
Bendigo Pioneers
16
Callum Brown
Eastern Ranges
16
Dylan Clarke
Eastern Ranges
16
Fletcher Carroll
Murray Bushrangers
16
Jono Aujard
Oakleigh Chargers
16
Harrison Burt
Sandringham Dragons
16
Jordan Gallucci
Eastern Ranges
15
HANDBALLS
Matthew Signorello
Northern Knights
22
Max Augerinos
Geelong Falcons
21
Wilson Berry
Western Jets
18
Andrew McGrath
Sandringham Dragons
17
Brodie Romensky
Western Jets
17
Lachlan Murphy
Northern Knights
17
Callum Brown
Eastern Ranges
16
Lachlan Fogarty
Western Jets
16
Sam Fowler
Dandenong Stingrays
16
Cassidy Parish
Geelong Falcons
16
Ben Ainsworth
Gippsland Power
14
Dylan Clarke
Eastern Ranges
14
Lachlan Walker
Oakleigh Chargers
14
William Brodie
Murray Bushrangers
14
Ashley Krakauer
Sandringham Dragons
14
MARKS
Darby Henderson
Bendigo Pioneers
12
Jono Aujard
Oakleigh Chargers
11
Callan Wellings
North Ballarat Rebels
10
Isaac Miller
Bendigo Pioneers
9
Jack Higgins
Oakleigh Chargers
9
Lachie Wallace
Bendigo Pioneers
9
Dylan Clarke
Eastern Ranges
8
Lachlan Walker
Oakleigh Chargers
8
Kade Renooy
Gippsland Power
8
Cedric Cox
North Ballarat Rebels
8
Jordyn Cotter
Western Jets
8
Caleb Sheahan
Bendigo Pioneers
8
Cameron Rayner
Western Jets
8
Brock McGregor
Western Jets
8
Ashley Krakauer
Sandringham Dragons
7
HITOUTS
Sam Hayes
Eastern Ranges
30
Ovie Magbegor
Calder Cannons
26
Chas Roberts
Northern Knights
23
Dylan Atkins
Dandenong Stingrays
23
Lachlan Filipovic
Sandringham Dragons
21
Esava Ratugolea
Murray Bushrangers
21
Lloyd Meek
North Ballarat Rebels
20
Trent McMullan
Murray Bushrangers
20
Brock McGregor
Western Jets
19
Harry Boyd
Murray Bushrangers
19
Nick Larkey
Oakleigh Chargers
18
Braidon Blake
Bendigo Pioneers
18
Zachary Zdybel
Geelong Falcons
17
Jesse Smith
Sandringham Dragons
17
Josh Patullo
Gippsland Power
16
TACKLES
Tim Taranto
Sandringham Dragons
10
Dylan Clarke
Eastern Ranges
9
Lachlan Murphy
Northern Knights
9
Adam Tomaro
Oakleigh Chargers
9
Braidon Blake
Bendigo Pioneers
8
Hugh McCluggage
North Ballarat Rebels
8
Zach Guthrie
Calder Cannons
8
William Brodie
Murray Bushrangers
8
Jack Blood
Geelong Falcons
8
Jordan Gallucci
Eastern Ranges
7
Campbell Lane
Oakleigh Chargers
7
Wade Donnan
Bendigo Pioneers
7
Lachlan Fogarty
Western Jets
7
Brodie Romensky
Western Jets
7
Joseph Atley
Bendigo Pioneers
7
2016 LEADING GOALKICKERS
Goals
Total
Karl Brown
Calder Cannons
1
46
Brett Blair
Geelong Falcons
1
35
Sam Fowler
Dandenong Stingrays
_
33
Kayle Kirby
Bendigo Pioneers
4
32
Lachlan Tiziani
Murray Bushrangers
INJ
29
Dan Allsop
Dandenong Stingrays
2
26
Jordan Johnston
North Ballarat Rebels
_
24
Hayden McLean
Sandringham Dragons
1
24
Shannon Beks
North Ballarat Rebels
1
23
Joshua Begley
Eastern Ranges
_
23
Related content:
Stats Central Rd 15: Bushies shoot past Dragons
Stats Central Rd 14: Long-Range kicking
Stats Central Rd 13: Pios bring heat on cold day
Stats Central Rd 12: Sandy seizes chances
Stats Central Rd 11: Oakleigh charges at Geelong
Last Modified on 16/08/2016 22:30